Clear the tracks for efficient transports
If you would like to save road tolls and vehicles costs while minimising impact on the environment, the multimodal transport terminal offers extremely cost-effective transport solutions. 
Higher loads for trucks, exemption from road tax and traffic bans are just some of the convincing advantages of combining road and rail transport.
With its direct link to the seaward handling facilities of Germany's only deep-water port, the multimodal terminal is the ideal logistics hub for container, semitrailer and swapbody traffic. The close proximity to the freight village with its 160 hectares of industrial and logistics areas and wide range of services make the complex one of the most efficient transport hubs for your logistics in Northern Europe.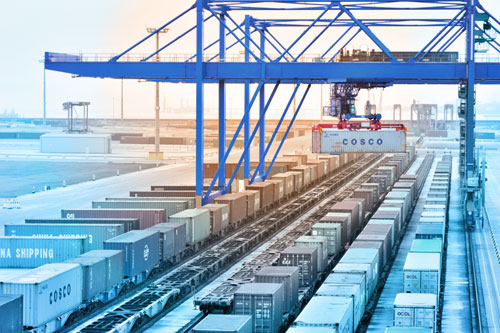 Combine road and rail to your advantage:
Loads of up to 44 tons per truck – without a special permit
Exempted from truck bans
Pre-defined operational times
High level of security for rail transports
Lower burden on the environment and road infrastructure
Reduced toll and vehicle costs
Distances
From Wilhelmshaven to...
The most important business regions in Germany can be reached quickly by rail from Wilhelmshaven:
| | |
| --- | --- |
| Bremen | 100 km |
| Hamburg | 210 km |
| Hanover | 220 km |
| Duisburg | 313 km |
| Rostock | 400 km |
| Leipzig | 471 km |
| Stuttgart | 680 km |
| Nuremberg | 680 km |
| Munich | 850 km |
Operator 
Rail Terminal Wilhelmshaven GmbH
Axel Ahlers
Ozean-Pier 1
26388 Wilhelmshaven
Web page (German)
Tel.: +49 4421 7744-0
Fax: +49 4421 7744-4977